Soul Survivor ~ Itto Outini
Sunday Assembly Nashville • 11 april • 10.30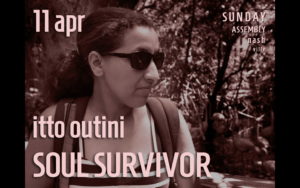 Homeless in the Atlas Mountains, I Sought God — and Found Myself Instead. Now, I can speak freely about my lack of belief.
~ Itto Outini will share her incredible story of the power of the human will to overcome seemingly insurmountable adversities.
Born in the Atlas mountains of Morocco, her parents died when she was a child. Denied a childhood education, Itto was shuffled from home to home, neglected, abused, and raised without the warmth of a loving family. Indoctrinated into Islam, she was deemed a worthless female. Blinded by her uncle's wife at seventeen, she was cast into the cold of the Atlas mountains, homeless and forgotten. Her incredible courage and determination led her to learn to read and write, master braille, become fluent in English, receive a Fulbright Scholarship to the University of Arkansas, earn a Master's degree in Journalism, reject religion in favor of atheism and activism, write a book and become an advocate for others who face adversity. She is a "voice for the voiceless" with an inspirational message to all.