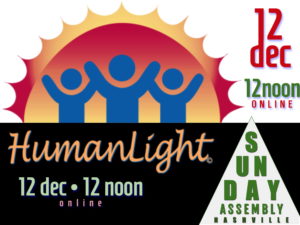 12 december • 12noon • online
Ah! Yes! There's a nip in the air. The leaves have shown their colorful best but only the most hearty are still clinging to a branch. Hot cocoa has become the beverage of choice and ruddy cheeks make perfect pink bookends for the smiles on the children's faces. It's December and expectations are running high. 'Tis the season … for a HumanLight celebration! So, Sunday Assembly Nashville and Sunday Assembly Silicon Valley are joining together to host a virtual "HumanLight" Assembly on December 12th, 2021, noon central time and 10 AM Pacific, to extol the positive, secular human values of reason, compassion, hope and humanity.
Originally celebrated in 2001, "HumanLight" was created to provide a specifically Humanist celebration during the western world's holiday season. It is often celebrated on December 23rd, a date chosen so it would not directly conflict with other adjacent holidays- both religious ones such as Christmas and secular ones like Solstice. Though each celebrant can personalize the party, themes such as singing, decorations, sharing a meal, activities for children, giving gifts, lighting candles and the inclusion of a charitable aspect are all great ways to make the occasion special. And the celebration can be a personal one, a family event, or one shared by a larger congregation.
This year's celebration will feature many of the ingredients listed above plus a healthy dash of levity. Bring your own feast to this one and experience a celebration that just might become a seasonal favorite in your family or group. So, let the light of hope vanquish the dark, let compassion warm every heart, let reason show you the way, hold fast to your faith in humanity, and join us if you can for this meaningful and memorable assembly.
· zoom.us/j/93033803630?pwd=dWduWW9lSmxmRXFXbndUZitSK3NhQT09
· youtube.com/sundayassemblynashville